As a former (and always!) teacher, Read Across America Day already sings to my heart – millions of teachers, parents, and kids focused on reading great books and talking about them.  What could be better??
I didn't realize until I really started writing as a career, though, how much Dr Seuss' work means to me as well.  When I read him as a child, I liked some of his books (The Sneetches), loved some of his books (The Butter Battle Book), and hated some of his books (The Cat in the Hat … those reckless Things just irritated me!).  But reading as a writer … well that has been a wholly humbling experience!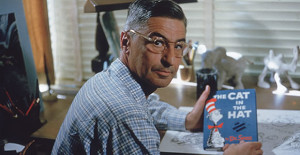 Dr Seuss' mastery of storytelling, the way he packs so much content in each and every word choice, the perfect blending of simple vocabulary, high-level vocabulary, and newly invented vocabulary – all of shows a level of talent and attention to detail that I can only aspire to and be inspired by.
So Happy Birthday, Dr Seuss!  Thank you for your work and your imagination, and the way you challenge me every time I sit to type.
"You can fool an adult into thinking he's reading profundities by sprinkling your prose with purple passages. But with a kid you can't get away with that. Two sentences in a children's book is the equivalent of two chapters in an adult book." – Theodor Geisel