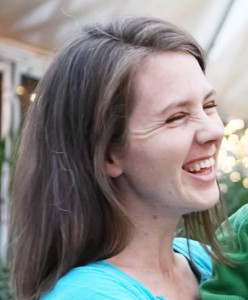 Amelia was born to write. If her first word hadn't so predictably been "Daddy", it surely would have been "autobiography". She spent her childhood documenting life in poem, and honed her story-telling skills in Worthington Schools. She was always a voracious reader, frequently hiding books and a flashlight under her pillow so she could read late into the night.
Amelia's background is primarily in education; she taught preschool for seven years and middle school Spanish for five, before resigning to teach her favorite pupils at home and focus on a second career in writing. Throughout her time as a preschool teacher, she found herself looking for specific picture books that simply did not yet exist, and vowed to someday fill the shelves with the books she always wanted to find for her students. Now as a mother, she's been inspired again by the classics, and has a passion for bringing words to life for the very young reader.
In 2012 Amelia was published twice by Standard Publishing as a part of their Happy Day series of early Christian readers. While enjoying author visits with students in Christian schools, preschools and churches, her hope is to soon be published in the mainstream market, with the ability to bring her stories and excitement for writing to even more children.